Service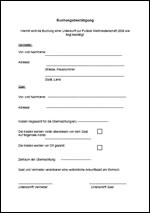 Download booking confirmation here ...
Information for the accommodations – recommended prices for landlords
Host a Fan recommends prices for the accommodations. The recommended prices are just for your orientation and not binding. The prices might vary because of supply and demand.
Recommended prices for an accommodation for one person in a transit room:
15 EUR to 25 EUR
Recommended prices for an accommodation for one person in a separate room:
20 EUR to 40 EUR
Prices are depend of the location and the furnishing of the accommodation. If your accommodation offers all named accoutrement and the location is in close reach of the city centre, stadium and station you can demand the highest recommend price.
Booking confirmation & Rent contract
Safeness and reliability should be self-evident for both parts landlords & guest. But the past shows that is not always the case. To be on the safe side we offer you some forms to make it easier:
You have the possibility to download a booking confirmation to assure the booking for you and your guest.
Download booking information
If the guest stays for a longer period of time you can also download a rent contract. This might be necessary because you need to inform your on landlord if you are not living in your own apartment/house.
Download rent contract
Permission to subletting
Make sure to get the permission of you own landlord if you are subletting rooms in your apartment/house.
Damages/Liability
In case of damages in your apartment/house the liability insurance of the guest should pay. But this insurance is not compulsory in Germany. Foreign guests might not have one either. Therefore think about a guarantee deposit that you can return to the guest at the end of the visit if everything is as discussed.
Value added tax
Host a Fan informs you that to the take from subletting VAT maybe added after § 4 Nr. 12 UStG. Please ask your tax consultant for advice.
You have more questions or wishes?
Then send them to us